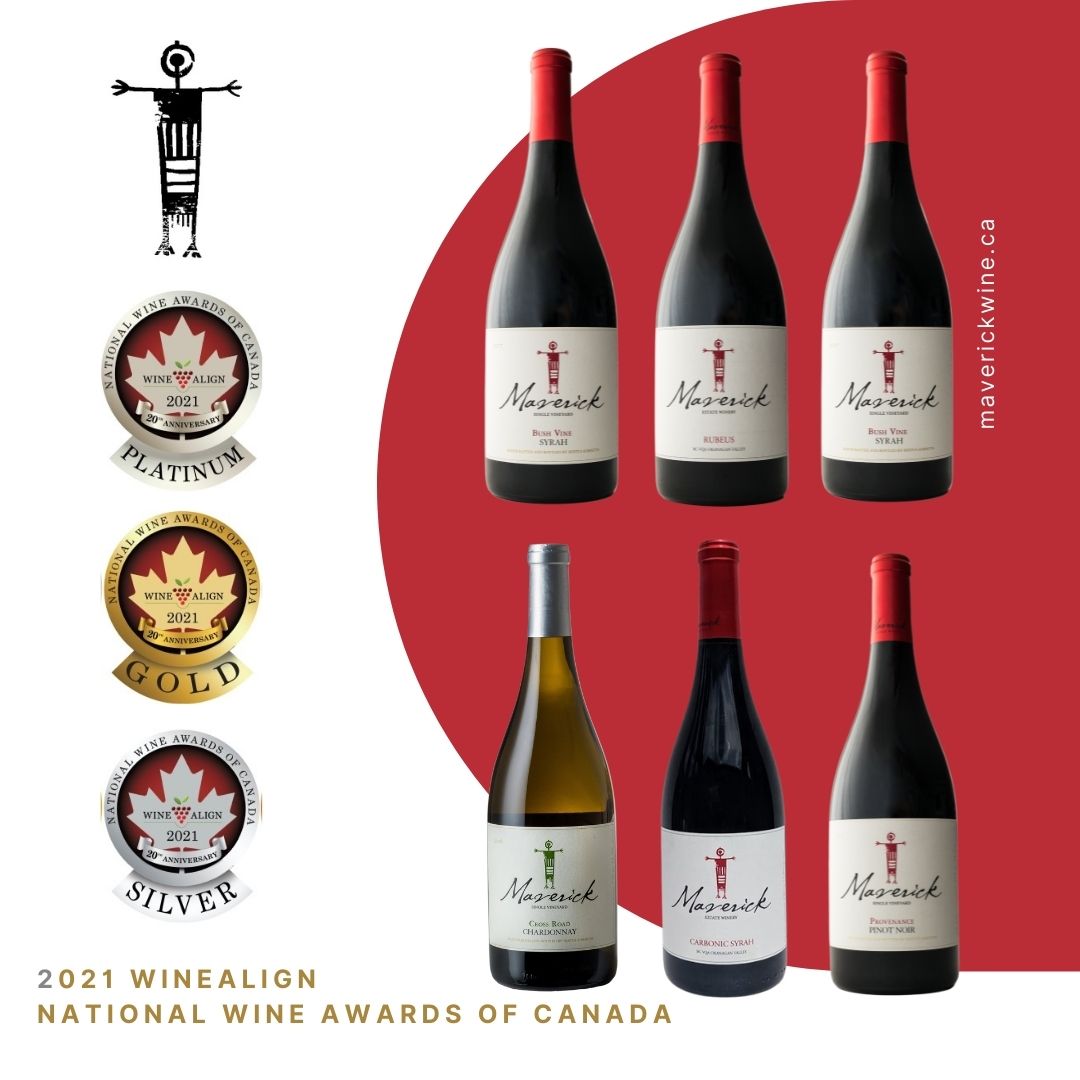 Medal Mania 6-pack
Red Wine
Put the Big Guns in your cellar with our special 'Maverick Medal Mania' 6-pack.
1 x 2019 Bush Vine Syrah PLATINUM medal 94 points $29.98 + tax
Over the top good Syrah. Purple and opaque. The nose is layer after layer of spice, chocolates and red berry fruit. Subtle notes of olive tapenade and baking spices from the year and a half in the barrel. Lots of toasty aromas. The palate is rich and powerful with a peppermint note. Long finish with a good amount of grip. This muscular Syrah will age far longer than we'll be able to resist enjoying it!
2 x 2019 Rubeus GOLD medal 92 points $25.98 + tax
The 2019 Rubeus is deep and dark reddish-purple colour. The nose is sweet and spicy, with English pudding notes, chocolate, and caramel. Cherries and dark chocolate dominate the palate. A long and structured finish gives this wine plenty of staying power.
1 x 2020 Provenance Pinot Noir SILVER medal 90 points $29.98 + tax
The nose is bursting with red fruit, cherry, raspberry lemonade, notes of chocolate and subtle herbal character resulting from the addition of whole grape clusters during ferment. Bright and juicy on the palate, loaded with vibrant red fruits again, some watermelon notes, and cinnamon, from the 2-year-old barrels it spent 8 months in.
1 x 2020 Carbonic Syrah SILVER medal 90 points $34.98 + tax
Whole berry fermented with no additives, filtration or fining, the Maverick Estate Winery Carbonic Syrah is an Okanagan interpretation of carbonic macerated syrah reminiscent of a high-quality Beaujolais.
1 x 2020 Chardonnay SILVER medal 90 points $28.98 + tax
Deep straw yellow colour shows the impact of time in new French oak. The nose is sweet with fresh peach pie, chamomile, tropical fruits, banana, pineapple, and grapefruit. The 2020 Cross Road Chardonnay has a wonderful richness, with golden apple on the palate, lemon meringue, dash of nutmeg and anise. The finish has a little bit of grip to give the wine generous body and texture.