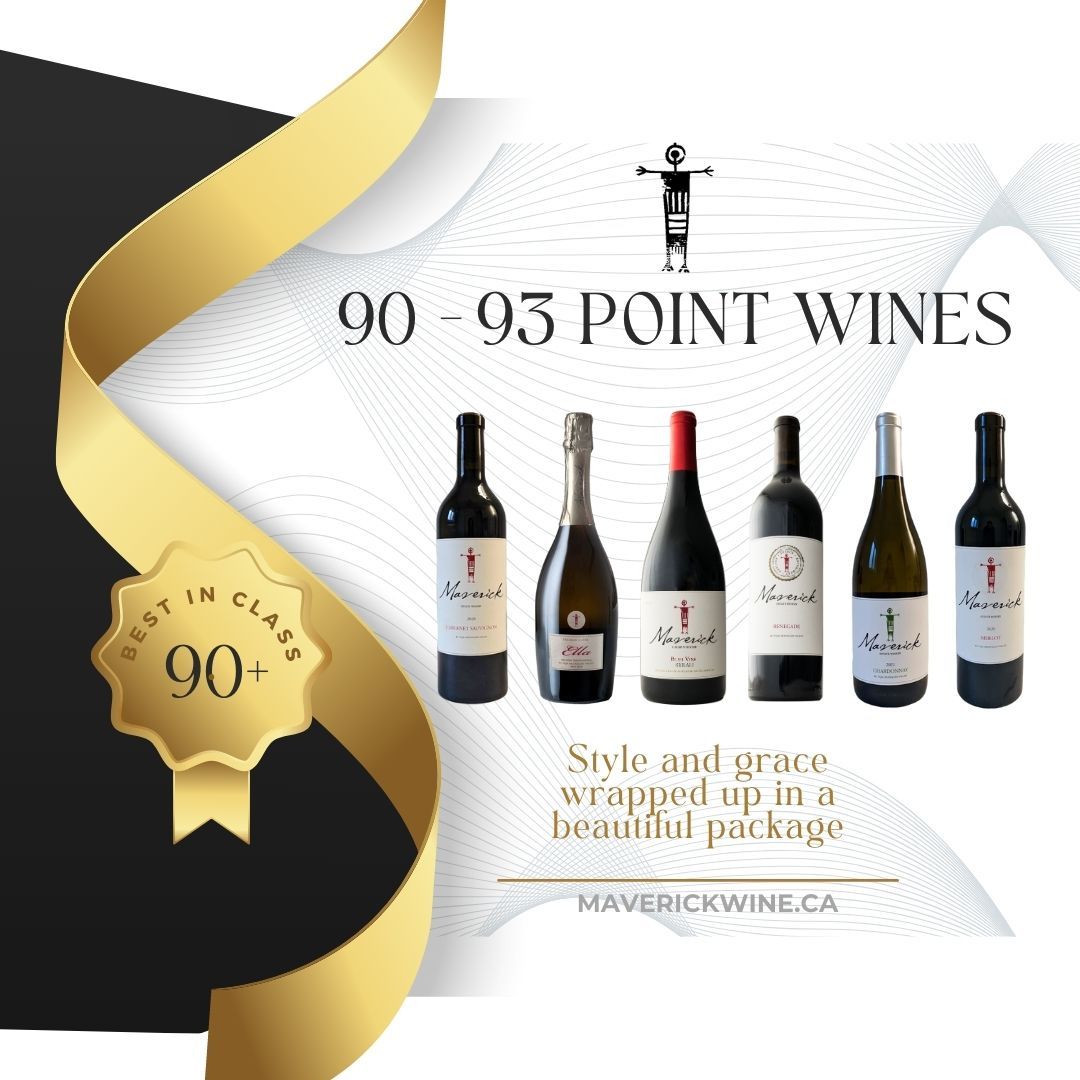 90+ Point 6-pack
Packs and Bundles
We are utterly thrilled to have been awarded 90 – 93 points for these wines by John Schreiner, writer and wine columnist and Canada's most prolific author of books on wine. Critics say that wines at this level often offer beautiful expressions that are specific to that wine varietal.
Style and grace wrapped up in a beautiful package. Build your cellar with these ultra-premium age-worthy bottles or pour a little luxury at your next special occasion.
1 x 2020 Bush Vine Syrah 93 points $29.98 + tax
"Incredible price-point and a masterful representation of the vintage" – Carl Boucher, Carls Wine Club
1 x 2019 Renegade SILVER medal 92 points $39.98 + tax
"The wine is full-bodied with aromas and flavours of dark cherry, spice and chocolate. The winery speaks of Black Forest cake and I agree" – John Schreiner on Wine
1 x 2020 Merlot 92 points $39.98 + tax
"This is Maverick's first Merlot. The wine was aged for 18 months in French and Hungarian oak barrels (some were new) and bottled unfiltered. The wine begins with the aromas of cassis and black cherry. On the palate, there are big, ripe flavours of plum, dark cherry, chocolate and cola" – John Schreiner on Wine
1 x 2020 Cabernet Sauvignon 92 points $44.98 + tax
"The first ever Maverick Cabernet Sauvignon is here with a bang. The pristine and perfectly ripened grapes were given a wild ferment. The nose shines with aromas of pencil shavings, blackberries, licorice and dry thyme. On the palate, the wine is soft and creamy with flavours of blackberry, black currants, dark cherry, blue plum, fresh herbs, dark chocolate and tobacco leaves" – Carl Boucher, Carl's Wine Club
1 x 2021 Chardonnay 91 points $28.98 + tax
"This wine was fermented and aged for six months in French oak. The oak flavours are very well integrated, leaving the tropical fruit flavours at the center of the stage. The wine is rich, a touch buttery, and has a long finish" – John Schreiner on Wine
1 x Ella Premier Cuvée Brut Rosé SILVER medal 90 points $34.98 + tax
"Fruity aromas mingled with yeasty notes. On the palate, there is lively mousse and flavours of raspberry. The wine is fresh and lively on the finish" – John Schreiner on Wine.