Maverick Estate Winery
Our Philosophy, Our Story
At our estate winery, we believe in the 'slow wine' movement: creating an unrushed, artisanal product that reflects the place it came from.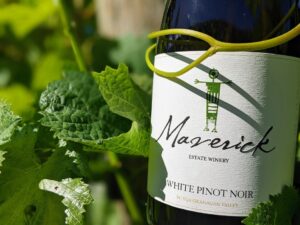 Working with fruit produced primarily from in our estate vineyards, we make our wine with minimum intervention. Our goal is to use minimal intervention in our winemaking so that our wines fully express the flavour and complexity produced in our vineyards. Our classic, patient approach builds wines of beauty and detail: rich, daring reds and flavourful, elegant whites.
Maverick Estate Winery's emblem is inspired by the blending of ancient pictographs drawn on cave walls around South Africa (reflecting the origin of the winery's founding families) and cave drawings found peppered throughout the Okanagan Valley. The Maverick man represents the enthusiastically unconventional free thinker. Whether in ancient times or today, Mavericks are not afraid to forge their own paths and stay true to what they believe in. We are mavericks: uncompromising in our pursuit and unrestrained in our enjoyment of exceptional wine.
The winery founders purchased the acreage that is home to the Maverick Estate Winery in 2009. The first vintage of Maverick Estate wine, produced in 2011, drew high praise from critics and customers alike.
In April 2020, the winery and vineyard were acquired by Ontario native and winemaker Andrew Windsor and Okanagan native Jan Nelson. Andrew and Jan met at Tinhorn Creek Vineyards, located just 6km north of Maverick, and they partnered with Bob and Barb Shaunessy, one of the founding families of Tinhorn Creek, to purchase the winery. Jan and Andrew are inspired by the amazing vineyards, vibrant communities and delectable wines of the south Okanagan, and searched far and wide to find just the right home in the area.  Maverick is a perfect fit for their philosophy, dedication to people, land and community, and approach to winemaking.
Today, Maverick Estate wines are gaining a strong following for their consistency, elegance, complexity and balance.
ANDREW WINDSOR – COO / Winemaker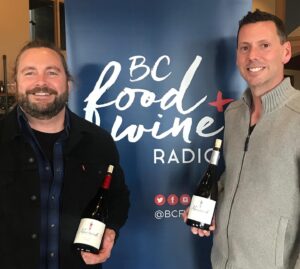 Andrew brings a unique blend of passion and scientific knowledge to his winemaking.
Born in Ontario, Andrew's first taste of wine was a friend's parents' attempt at homemade wine. It might not have been great, but it didn't put him off – he went on to take a course in wine while studying at the University of Guelph. In his twenties, Andrew assisted with an ice wine project in Niagara-on-the-Lake. Andrew had quite a wake-up call to the winemaking world when he had to start picking grapes at 3 a.m. in minus 12C to make ice wine.
Andrew earned a Masters of Oenology at the University of Adelaide in Australia in 2008 and then took on an Assistant Winemaking role at Mollydooker Wines in McLaren Vale, where he lived on the beach and cycled to work through vineyards filled with kangaroos.
Andrew is responsible for the winemaking process from vines to bottle. He brings with him a wealth of experience having worked in wineries in the Okanagan, Marlborough in New Zealand and the Northern Rhone in France before returning to Canada to work in Niagara and then on to Tinhorn Creek in the Okanagan.
"France taught me that wine is not just a science but an art form, a culture and an expression of a place. Wine has the ability to take you to a place in the world without leaving your home," says Andrew. "I want to make the best wine in Canada and the only place I can do that is the South Okanagan."
JAN NELSON – CEO
Jan grew up on a tree fruit farm outside of Oliver, BC, less than 4km north of Maverick. He left the Okanagan Valley in 1992 to begin over two decades of travel that took him to university in Montreal, business school in Italy to gain his MBA, and over 17 years in Japan before returning to the Okanagan in 2015.
During trips home to visit family, Jan witnessed the growth of the BC wine industry and the transition of land from tree to vine during the 1990s and 2000s. His decision to join the wine industry was inspired by the changes in the Okanagan and partly because he loved drinking the stuff.
In 2002, Jan joined a start-up, importing wines from Washington and Oregon to Japan and has since led export programs for Washington and Napa Valley in Japan, imported Italian food and wine, and consulted for wine-related businesses across Japan.  Jan has worked with some of the leading brands from the Pacific Northwest, Napa Valley and Italy.
Jan believes the amazing potential of the BC wine industry is that it isn't tied down to expectations built up over centuries of winemaking history. This gives the BC wine industry the freedom to try anything and everything.
"I'm proud of where I'm from, so I want people to learn about, experience and enjoy the Okanagan and its wines," says Jan. "The industry here is still relatively new, so we are empowered by our future and not limited by our past. We are still discovering our potential, our strengths, as well as our weaknesses. There is no image to which we must conform, and we are surrounded by enthusiasm and not pretension. And you could not find a more beautiful region to share."
Our Vineyards
Maverick Estate Winery's estate vineyard on the Golden Mile Slopes is located on hot and sunny, east-facing slopes in the southernmost part of British Columbia's Okanagan Valley. The area boasts an extremely dry climate, geologically young soil, and more consistent hours of summer sunlight than anywhere else in Canada. Summer temperatures that exceed 30°C (86°F) almost every day through July and August combine with cool nighttime lows around harvest to support the concentration of sugars and complex berry flavours. These prime grape-growing conditions are made possible because the area is Canada's only desert.
We believe the better the grapes, the better the wine. Balanced wines can only come from balanced soil. For that reason, we leverage both nature and science to nurture the health of our vineyard soil. From improving microbial activity to increasing our soil's water-holding capacity to moving away from the use of conventional chemicals, we are constantly working to support our soil's ability to grow great vines.
The majority of Maverick Estate Winery's vineyard acres consist of well-drained, coarse, gravelly glaciofluvial deposits, complimented by blocks with a higher concentration of fine-textured sediment and silt.
Our Vinification Process
The art of winemaking is the ability to preserve the purity and robust flavour of fruit at harvest in the wine. Therefore, our quest for excellence is, in large part, influenced by what happens in our vineyard. From planting through harvest, our vines are meticulously managed and our soil is carefully supported. Once the vines have completed their job, however, ours is just beginning.
Selecting the best possible date for grape harvesting is incredibly important since capturing the highest possible level of phenolic and flavour maturity is key to any good wine. All grapes are handpicked into small bins; the fruit is treated with the utmost care to ensure as little handling damage as possible.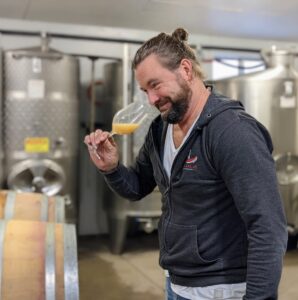 Maverick Estate Winery white wines are all whole bunch pressed to keep the phenolics to a minimum. The juice is settled and racked prior to fermentation, with a portion of the juice barrel fermented to add palate weight to the final product. The wines are fermented naturally, aging on the lees for four months to extract flavour and build structure before being bottled. Our Chardonnay, Semillon, White Pinot Noir and some of our experimental wines are barrel fermented and aged, and barrels are judiciously selected from cooperages in France and Hungary.
Maverick Estate Winery red wines are de-stemmed before primary fermentation, and many of the ferments include full clusters of grapes to add freshness and complexity to the final blend. Fermentation takes place naturally in open-top fermenters with regular punch down (known as 'pigeage'). Fermentation is conducted at 32° Celsius and post-fermentation maceration is done for up to three weeks. The wines are pressed and racked to barrel to undergo malolactic fermentation and aging. The wine is regularly racked until it is bottled unfiltered. Depending on the wine and the vintage, the wines are aged for up to 14 to 18 months before bottling.