Maverick Estate Winery
Our Philosophy, Our Story
At our estate winery, we believe in the 'slow wine' movement: creating an unrushed, artisanal product that tastes of the place it came from.
"Nature delivers everything of value in wine. You can't add; you can only destroy what naturally exists in the fruit," says winemaker Bertus Albertyn. "A winemaker should see himself as observer and preserver rather than 'maker', which is why we allow the winemaking process space and time to go at its own pace. Our job is simply to capture and preserve the unique flavours of our soil, our climate, and our weather, and translate that potential into exceptional wine."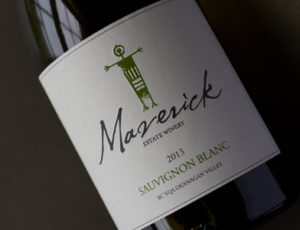 Working with fruit produced exclusively in our family estate vineyards, we make our wine with minimum intervention. We choose not to add inoculants, sugar or other additives because, though they speed up the process and sweeten the product, they mask and muddy the flavour subtleties only available from nature. Our simple, patient approach builds wines of beauty and detail: rich, daring reds and powerful, elegant whites.
Maverick Estate Winery's emblem is inspired by the pictographs drawn on cave walls around South Africa many thousands of years ago. It represents the enthusiastically unconventional free thinker. Whether in ancient times or today, Mavericks are not afraid to forge their own paths and stay true to what they believe in. We are mavericks: uncompromising in our pursuit and unrestrained in our enjoyment of exceptional wine.
When Schalk de Witt, newly immigrated to Canada from South Africa with his young family, first travelled through the green farmland and sparkling lakes of BC's South Okanagan in 1990, he was amazed by the similarities to his hometown, half a world away. He knew he'd found the place he wanted to call home. But life has a way of getting in the way –at least temporarily– of even the surest of intentions. Work and family commitments took him into the Kootenays and then on to Alberta. Sixteen years later, Schalk finally made his dream a reality, when he and wife Lynn purchased 48 prime grape growing acres in Osoyoos in 2005.
Meanwhile, back home in South Africa, Schalk's daughter Elzaan had reconnected, fallen in love, and married a childhood friend named Bertus Albertyn. The tousled-haired boy had grown into an accomplished winemaker who, by fate or good fortune, also dreamed of Canada.
In 2009, Elzaan and Bertus immigrated to British Columbia's wine country. Together with her father and Lynn, the new immigrants purchased the acreage that is now home to the Maverick Estate Winery and all generations of the Maverick Estate Winery family.
The first vintage of Maverick Estate wine, produced in 2011, drew high praise from critics and customers alike. Today, Maverick Estate wines are gaining a strong following for their consistency, elegance, complexity and balance.
Our Vineyards
Maverick Estate Winery's four vineyards are all located on hot and sunny, southeast facing slopes in the southernmost part of British Columbia's Okanagan Valley. The area boasts an extremely dry climate, geologically young soil, and more consistent hours of summer sunlight than anywhere else in Canada. Summer temperatures that exceed 30°C (86°F) almost every day through July and August combine with cool nighttime lows around harvest to support the concentration of sugars and complex berry flavors. These prime grape-growing conditions are made possible because the area is Canada's only desert.
We believe the better the grapes, the better the wine. Balanced wines can only come from balanced soil. For that reason, we leverage both nature and science to nurture the health of our vineyard soil. From improving the microbial activity to increasing our soil's water holding capacity to moving away from the use of conventional chemicals, we are constantly working to support our soil's ability to grow great vines.
The majority of Maverick Estate Winery's vineyard acres consist of well-drained, coarse, gravelly glaciofluvial deposits, with the lowest areas having a higher concentration of fine-textured sediment and silt.
Our Vinification Process
The art of winemaking is the ability to preserve the purity and robust flavor of fruit at harvest in the wine. Therefore, our quest for excellence is, in large part, influenced by what happens in our vineyard. From planting through harvest, our vines are meticulously managed and our soil is carefully supported. Once the vines have completed their job, however, ours is just beginning.
Selecting the best possible date of grape harvesting is incredibly important, since capturing the highest possible level of phenolic and flavour maturity is key to any good wine. All grapes are handpicked into 30 pound trays; the fruit treated with the utmost care to ensure as little handling damage as possible. The grapes are then hand-sorted and cooled to five degrees Celsius before being processed.
Maverick Estate Winery white wines are all whole bunch pressed to keep the phenolics to a minimum. The juice is settled and racked prior to fermentation, with a portion of the juice barrel fermented to add palate weight to the final product. The wines are fermented naturally, aging on the lees with monthly stirring for three months to extract flavour and build structure, and then without stirring for an additional three months before being bottled.
Maverick Estate Winery red wines are partially de-stemmed and crushed. Fermentation takes place naturally in open top, wooden fermenters with regular punch down (known as 'pigeage'). Fermentation is conducted at 32° Celsius and post-fermentation maceration is done for up to three weeks. The wines are pressed and racked back into the wooden fermentation tank for malolactic fermentation and aging. The wine is regularly racked until it is bottled unfiltered. Depending on the wine and the vintage, the wines are aged for 14 to 18 months before bottling.